PRODUCT LIST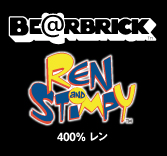 Happy Happy Joy Joy!!
2010年6月26日発売予定
ベアブリック No.000REN400
ベアブリック 400% レン

頒布価格¥6,800(税抜)
※消費税は別途申し受けます。

●全高約280mm
●1/6計画、ISETAN Shinjuku INTERNATIONAL
 CREATORS他一部店舗にて発売!
●400%ベアブリック初のブリスターカード仕様!

問合せ先/1/6計画 03-3467-7676
伊勢丹新宿店MEN'S館2F 03-3352-1111(大代表)

(C) 2010 MTV Networks. All Rights Reserved.
The Ren & Stimpy Show and all related titles and logos are trademarks of MTV Networks,
a Division of Viacom International Inc.
BE@RBRICK TM & (C) 2001-2010
MEDICOM TOY CORPORATION. All rights reserved.
© 2014 MEDICOM TOY CORPORATION, ALL RIGHTS RESERVED.
<!-