PRODUCT LIST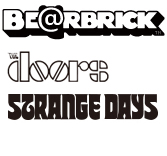 まぼろしの世界
2021年10月発売予定
BE@RBRICK The Doors
"STRANGE DAYS" 1000%

頒布価格¥63,800(税込)

●全高約700mm
●BE@RBRICKにThe Doorsの
 "STRANGE DAYS"1000%が登場!!

※数量限定商品のため、在庫が無くなり次第、
 販売は終了となります。

AKASHIC RECORDS 2021
まぼろしのパレード
会場:En STUDIO MIYASHITA PARK
場所:東京都渋谷区神宮前6-20-10
   RAYARD MIYASHITA PARK South 3F
期間:2021年10月23日(土)~10月31日(日)※会期中無休
開場時間:11:00~20:00[入場無料]

(C) 2021 The Doors Apparel Company, LLC.
All Rights Reserved.
BE@RBRICK TM & (C) 2001-2021
MEDICOM TOY CORPORATION. All rights reserved.
© 2014 MEDICOM TOY CORPORATION, ALL RIGHTS RESERVED.
<!-